My husband and I had the absolute, most amazing, beautiful, and perfect wedding day! This experience was made possible by many people, especially Ms. Andrea. She made sure our reception flowed smoothly and the exact way we had wished and hoped for! Ms. Andrea made great suggestions for the order of events such as when to take photos, when to perform dances, and reminding us to take in the moment and have fun! Her experience with special occasions is evident and a huge reassurance on such a big and special day! Ms. Andrea made sure all of our many guests were attended to and happy. However, she was especially concerned with my husband and I, she made sure we were beyond satisfied the whole evening. She even allowed us to spend an afternoon practicing our first dance in the ballroom a few days prior to the wedding! We could not have fathomed a better venue to celebrate the most important day of our relationship thus far together! Thank you Stage One and Ms. Andrea!! We loved every moment and will cherish them forever!!

Hope all is well THE LANES love you!!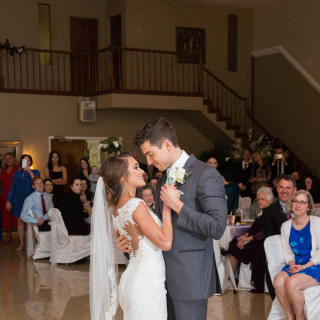 If you are looking for a place to have a social function, there is no better place in the state of Louisiana than Stage 1, located in Baton Rouge. As a graduation gift, my wife decided to give me a party; after visiting several locations to have the event, she eventually selected Stage 1. She could not have made a better choice. There are several reasons why this is so and why I strongly recommend that you chose Stage 1 for your future social event or activity. First, the guidance and professional assistances were beyond reproach!!! The food was not only delicious, it was also unexpectedly plentiful, and the wide selection of deserts were tasteful and impressive. Finally, you get to choose your personal choice of music; it matters not whether your choice is country, old school, classic, or jazz, Stage 1 can provided it. Believe me, if there is a better place to have your social event than Stage 1, it's not on this planet! Incidentally, make sure you ask to speak with Andrea; she will provide you with all the assistance necessary to make your activity a success; you will not find a more knowledge and personable advisor. Trust me, she will have the answers to all your questions, including the ones you forgot to ask.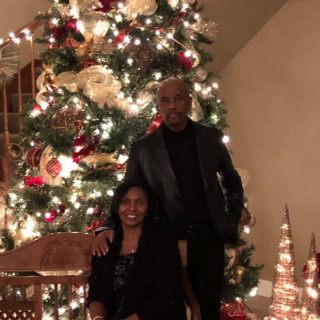 Andrea was absolutely incredible throughout our entire wedding process. After I had my first venue canceled out from under me, I called Andrea in a panic. Immediately she made me feel calm and let me know that my wedding day was going to be just perfect. Usually, Stage One doesn't host weddings as small as mine but Andrea was flexible throughout the entire process and made our reception a dream. You will not find a better value for your money around the entire Baton Rouge area. We still get compliments on the decor and food. Thank you, Andrea, for the best day ever!
Andrea is the best out there! No doubt! No question! Not up for debate! She made our big day so wonderfully perfect and smooth! Even when my husband's father was late she kept her cool and everything flowed just fine! She is beyond the sweetest person and I wouldn't wanted to have been any other wedding coordinator's bride! My husband and I were beyond thrilled and pleased with our big day! If we could do it all over again, I promise it would be at Stage 1 hands down every time! The only thing we would ever change is make our wedding like 3 hours longer because we had so much fun it went by incredibly too fast! We stepped in the hall while looking for locations and immediately knew this was our wedding place! Also best value in town! Can't be Andrea at Stage 1! I promise she'll make your wedding everything you've dreamed of and more!
Mrs. Andrea made this experience for my husband and I the best we have ever had. My parents got married there years ago, and that's why I chose that location. All of our guests are still talking about how beautiful it was and what was in the food they ate! She made everything for me really stress less and perfect. The time she took with my husband and me to make sure everything was exactly the way we wanted was amazing. Being waited on hand and foot after being so stressed out. She ever brought wine up to my room to calm me down. She was there for me and that was the most important. Every aspect of the most important day of our lives was perfect! Thank you so much Stage One; we couldn't have done it without y'all!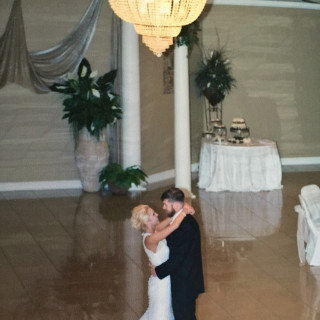 We had our wedding at Stage 1 in December 2014. It was AWESOME to say the least. It was everything (and more) that we could have imagined our wedding day would be like. I had heard horror stories of brides who said that something will always go wrong on your wedding day. With Andrea and the Stage 1 staff.....this did not happen! Andrea was so organized and made sure that every wish and want that we had on our "list" happened smoothly and efficiently. I am a planner and like for things to be organized, so when we went in for our first meeting and found out that Andrea was the same way, it was a definite YES that we had to have our wedding at Stage 1. I highly recommend Stage 1 to any bride out there who wishes for her wedding day to be perfect and flawless!
From the moment I walked in for a viewing, I knew this would be the place where I would get married. The place is immaculate! I'm a very picky person, and I pay attention to EVERY SINGLE DETAIL the ballroom floors are shiny, the walls are clean, the bathroom is clean, the Entire place is clean. That means a lot to someone like me. This venue takes away the headache of trying to find different vendors as everything is inclusive: The DJ, food, venue, etc. The day of the wedding Andrea never left my side. She catered to my every need, and made me feel at ease. She reassured me everything was going to be ok, despite the horrible weather that took place that day. The food was great, the guests had a vast variety to choose from. She sent my husband and I away with a nice basket full of goodies and a nice bottle of wine. I can go on and on because I'm long winded, LOL. If you're looking for a one stop shop, Stage1 is definitely the place.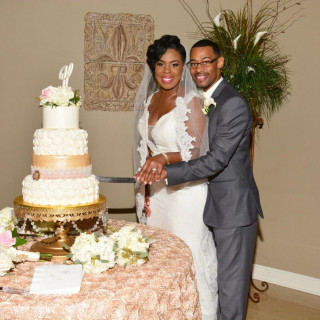 When looking for an indoor venue in the heat of the Louisiana summer and NOT in the downtown area. This venue was all that it needed to be. The staff was able to take away all of my worries and concerns, they work with you on any ideas you may have to make your dream come true. Before the wedding I made 30 wine bottle center pieces and Mrs. Andrea let me drop them off at the venue days before so that was one thing checked off my list. If there are certain beer or alcohol that you and your guest prefer it is no big deal to change that one the menu. THE food was amazing along with our chocolate fountain which our guests truly enjoyed to.

The package also includes so many things, Set up, clean up, table linens, chair covers, wait staff, cake cutting, even includes a DJ. I loved my night and it was so stress-free. Andrea was basically my own wedding planner keeping track of the time in order to get everything accomplished for the night. After the night was over as I went back to my hotel as husband and wife, we got "to go plates" where we finally got to sit and enjoy the rest of our food together, it couldn't have been more perfect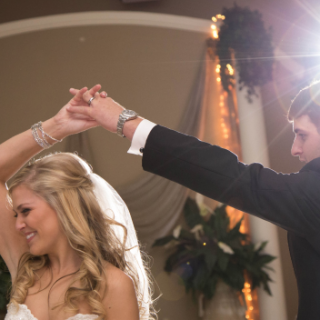 My husband and I could not have found a better place to have our wedding/reception! Andrea was super nice, attentive to our needs and made everything so easy and stress free. The staff there were very attentive and the room where our ceremony and reception were held was decorated perfect. The food for the reception was excellent, we could not have asked for anything better. Our guests were impressed by the quality and professionalism of the venue and staff. I would definitely recommend this venue. Stage 1 made our wedding day very personal, special and memorable. Thank you Andrea and the Stage 1 staff for making our day 'our day!'
I would like to take the time out to express my deepest appreciation to everyone at Stage 1. When I first walked in stage 1 the feeling that I felt, and the humble spirit Andrea showed, I knew right then that my wedding would be there. Through my wedding planning journey I was able to visit several places, but not a person I met made me feel as comfortable as Andrea did. My wedding day was truly a dream come true. I didn't have to worry about anything because I knew if there was a problem Andrea would take care of it. The building was beautiful, the food was spectacular, the service was by far the best I have experienced. We are a little over 2 months into our marriage and our guest are still raving about how beautiful our wedding was. The food was even delicious the following day at our gift opening party. There are no words that I can say to express how thankful I am to have come across Andrea, and for all she has done for me during this process. If anyone would like pure professionalism, great service and a carefree wedding day, please take the time out and visit Stage 1. I gained a friend when I met Andrea. If I could do it all over again, I wouldn't change a thing about our wedding.. Thank you sooooo Much Stage 1
Andrea is the absolute best! I literally didn't have to do 1 thing. She made sure everything started on time and that I was able to enjoy EVERY second of the wedding and reception.
As the new Mrs. Randall Garcia, Andrea and the Stage 1 staff did an amazing job in making my wedding reception flawless. I had such a great time and was not stressed because Stage 1 took care of everything. I would definitely recommend this venue for any occasion.
BEST VENUE. Would recommend this to anyone and everyone. Andrea at Stage 1 was so sweet and they took care of everything! Made planning so much less stressful.
My husband and I lives in Atlanta. So, you can imagine the stress we were under trying to plan a wedding in LA. Andrea, with Stage 1 was magnificent! She is very professional, thorough and detail. The food was very good and the hall is BEAUTIFUL! We are looking to plan a yearly celebration at Stage1 because of the whole experience. Thanks Andrea! You are the BEST!
Stage 1 is a beautiful and spacious venue. Being that it was all inclusive made the planning process so much easier. Ms. Andrea really outdid herself and paid attention to every detail I envisioned. She transitioned the reception so smoothly and it allowed my husband and I to enjoy our day, stress-free. The order of events were perfectly timed. I always heard stories that you will not have time to eat at the reception, but they are wrong. Ms. Andrea served plates to my husband and I and we even had time to eat! She also thought of every detail I would have never thought of and even sent checklists for the big day. Our wedding day turned out to be everything and more. I highly recommend Stage 1 as your venue, you will not be disappointed!